hello, becky from here.
i'm here to tell you how much
i love butcher paper homeschool lessons.
i know, i know...enough with the butcher paper already.
well, too bad.
i love me some butcher paper.
and i have lots more projects to share.
(hint: we're doing the nativity next week)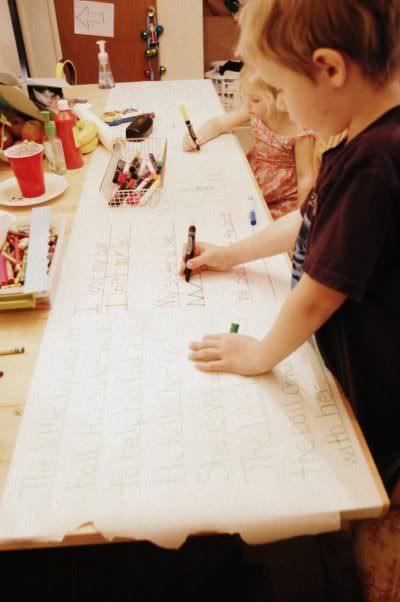 my sis-in-law thinks i need to buy stock in a paper roll company.
and a recycling plant.
today's butcher paper "school" went something like this -
reading
writing
decorate the christmas tree
review numbers 1-10
write numbers 1-10
20 math problems (reference 1-10 review)
my kindergarten teacher friend once told me,
have them read and write every single day -
and throw in some math for them if you can.
so, that has been my priority -
read, write, math.
that's what i use the butcher paper for.
and then cluttered around the edges,
we have piles of art projects
and science experiments and history books.
and by the way,
the current science experiment
of sprouting beans from the pantry
has been such a rip-roaring success,
we decided to sprout a whole forest this time.
i'll post pics later.